"After using it for a few weeks I can really feel the difference in my skin. I can also see my deep wrinkles around my mouth fading. Doesn't hurt at all to use." – Jess customer
3-IN-1 DERMA ROLLER - For Skin Regeneration and Firmness Improvement
By creating channels on the topmost layer of the skin surface, derma rolling reduces sagging skin, age spots, scarring (including acne scars), cellulite and wrinkles. Derma rolling essentially stimulates collagen production and accelerate skin regeneration.
Buy 2, get 15% off
Buy 3 or more and get 20% off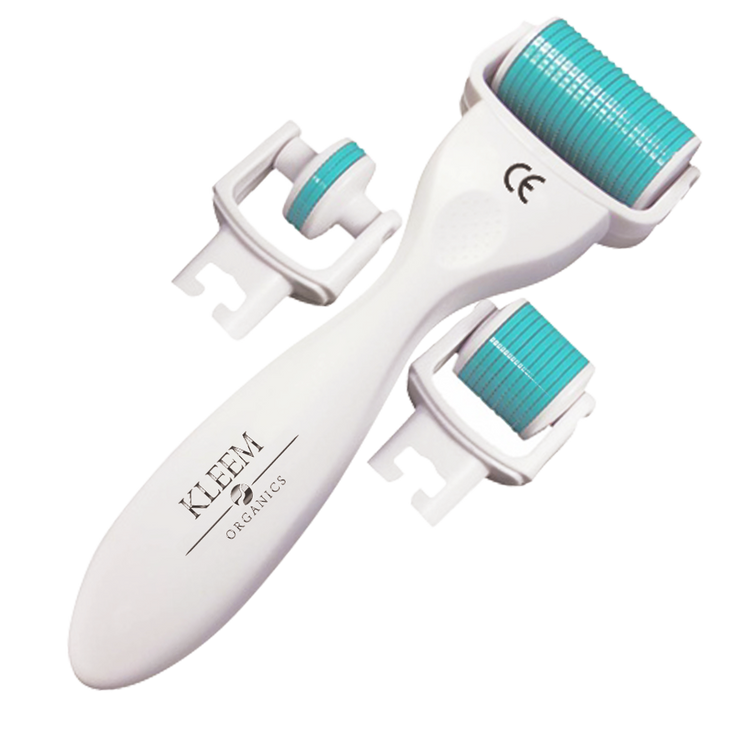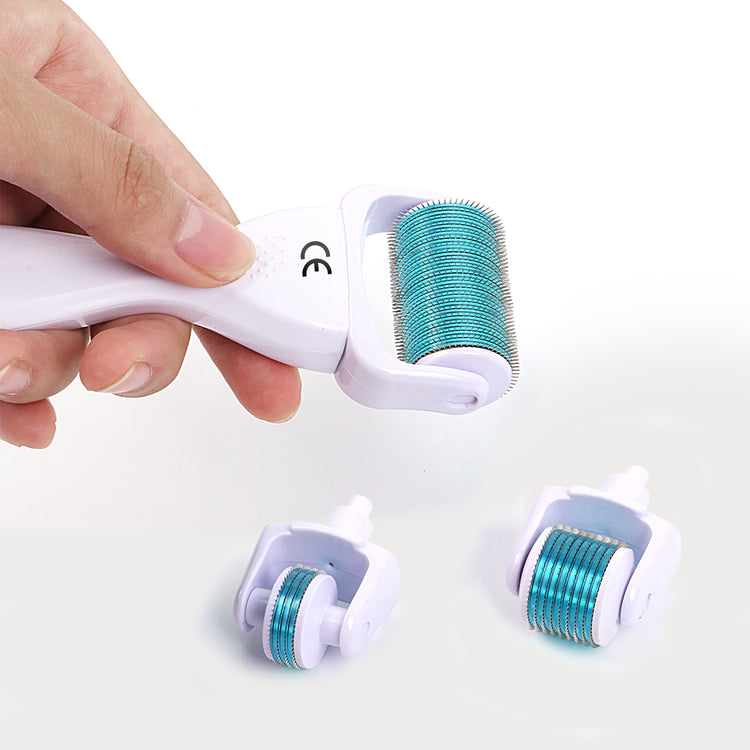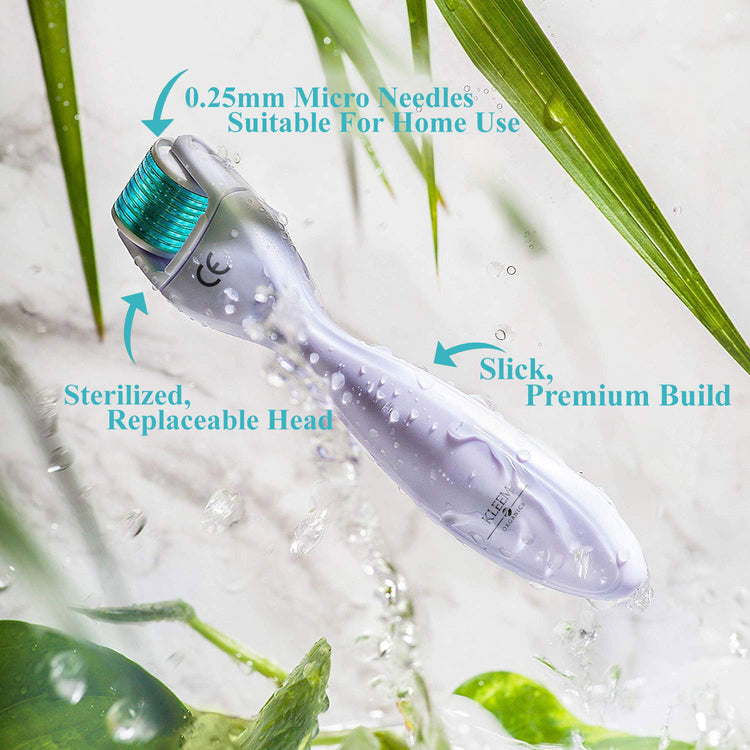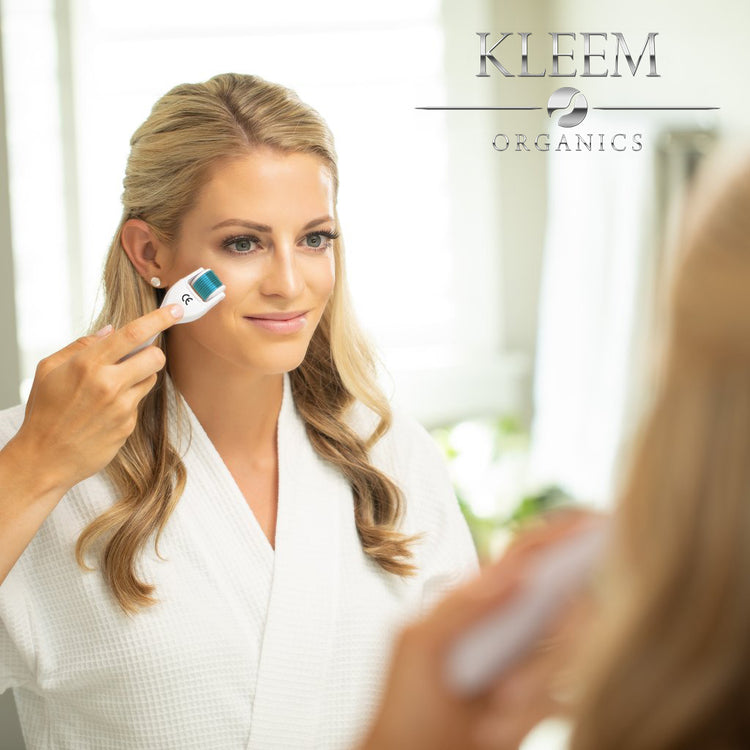 Complete the regimen
THE BEST SOLUTION DESIGNED SPECIFICALLY FOR YOU
If your primary skin concern is one or more on this list: loss of firmness and elasticity, skin discoloration and more generally signs of aging, we can now help you target them with the exact combinations of skincare products.
For smoother, healthier, youthful and more glowing skin, we recommend to start your beauty treatment with the Derma Roller followed (after 15 minutes) by our Vitamin C Serum, for a boost of antioxidants, and our Retinol Moisturizer.
Don't forget that the basis of every good skin care regiment needs a deep yet gentle cleanse.
GET 10% OFF WHEN YOU PURCHASE THE FULL REGIMEN!
Ingredients
The key to younger looking skin
For those of you who wish to achieve the best results from their skin care products and love beauty salon treatments, you have come to the right place. Kleem Organics' 3 in 1 Derma Roller creates tiny pain-free channels in the skin, resulting in the production of increased collagen, elastin and growth factors by the body, thus assisting natural repairing of fine lines, wrinkles, acne scars, skin discoloration, cellulite and stretch marks.
Anti-Aging supporter: reduces the appearance of fine lines, crow's feet and wrinkles.
Skin care booster: potentiates skin care formulations and their absorption.
Smooth skin supporter: through the regeneration of the skin, it reduces stretch marks and cellulite.
Promotes even skin tone: improves the appearance of acne scarring and hyperpigmentation.
Pore refinement: helps unclog pores and achieve clearer skin.
Reveal the glowing complexion that lies beneath!
Kleem Organics' 3 in 1 Derma Roller has been introduced in the beauty line to help promote skin repair and reduce the appearance of aging, wrinkles, scars, hyperpigmentation, stretch marks and cellulite while also maximizing the potency of your skin care products.
This sophisticated at-home induction therapy delivers in-depth unparalleled benefits thanks to the tiny microneedles which gently exfoliate the skin thus removing old skin cells, deposits and blockages of the epidermis while stimulating the production of collagen and elastin of the dermis. Your skin complexion will become more refined, radiant, transparent and smooth.
The slight puncture of the epidermis stimulates skin renewal and improves superficial skin perfusion. With just two to three applications a week, your skin will look smoother, healthier and brighter after only one month.
FULL INGREDIENTS LIST
THE LOVE YOU GIVE TO YOUR SKIN IS THE LOVE YOU GIVE TO YOURSELF.
600 titanium needles for a professional quality treatment with the convenience and comfort of home usage.
0.25mm length needle for the eye area which is the best, non-invasive, safe size for at home user with beginner to intermediate experience.
0.50mm length needle for the facial area which is the best, non-invasive, safe size for at home user with beginner to intermediate experience.
1.0mm length needle for the body area which is the best, non-invasive, safe size for at home user with beginner to intermediate experience.
Derma Roller Product Guide included with useful information and tips on how to best use the device for optimal results.
Ergonomic design and Easy to use.
THE ULTIMATE DIY BEAUTY TREATMENT
Pamper yourself to a beauty salon-like treatment with our 3 in 1 Derma Roller which promotes skin cell renewal resulting in rapid, visible results directly from your own home.
Maximise the effectiveness of your skincare with the micro needling technique that stimulates the skin's healing process. When you apply a face or body care product following the treatment, your skin will absorb up to 300% more of the active ingredients in comparison to untreated skin. Kleem Organics 3 in 1 Derma Roller effectively smooths and evens out fine lines, wrinkles, pigmentation, scars and enlarged pores and improves the appearance of stretch marks and cellulite.
Testimonials
How to use
FAQs
Testimonials
TESTIMONIALS
Christine
Customer

Beatrice
Customer

Jennifer
Customer

Lauren
Customer

Charlotte
Customer
Even my daughter noticed my glow!
I feel like this derma roller has helped me smoothen out my skin. I find it to be a relaxing treat at the end of a long day. I have noticed improvements in the overall appearance of my complexion and the wrinkles on my forehead have diminished visibly. I also feel like it's allowing my serums to actually penetrate my skin rather than just lay on top.
- Christine Customer
It's doing much more than I thought it would and I'm overjoyed!
I could never have imagined this would work so well and I'm absolutely thrilled with the results I'm getting. I use it on my face, neck and back of both hands as I have several age spots that I would like to fade. It seems to reduce skin discoloration, make pores finer, plump up the skin. I roll all the areas following the tips that they include in the product guide and then I apply my Vitamin C Serum to my face, neck and hands.
- Beatrice Customer
Wonderful product and customer support!
First of all, I was impressed with the packaging and I felt safe using the device on my face thanks to the quality of the microneedles. I loved how my serum and moisturizer were easily absorbed after the treatment. The next morning, I had a glow I've never noticed before and my skin was softer than ever. Also, their customer support is reliable, kind and they make you feel special. So, thank you for that.
- Jennifer Customer
Yes, it works brilliantly!!
This thing has been fantastic. Super easy and safe to use and it helps your skin care products penetrate your skin easier. I really believe it works for me because I am following the same skincare routine with the same products, but my skin is noticeably more hydrated, supple and clear and my forehead wrinkles are much less visible. This will be my-go to for a long time!!!
- Lauren Customer
LOVE, LOVE, LOVE!!
This is my first time derma rolling and so far I'm in LOVE with it! I have used it two times this week and can already tell an improvement in my skin. Plumper cheeks, smaller pores, smoother skin, no breakouts, a healthier glow. And a big plus: surprisingly it's not painful at all!
- Charlotte Customer
Ingredients
HOW TO USE:
Step 1 of 5
You need to make sure that your Derma Roller is not defective before usage.
A normal roller should roll freely, should not have irregular or bent protrusions and it should not get stuck while rolling. Otherwise, it is defective and you can't use it.
Pick and attach the desired head of your Kleem Organics Derma Roller. The 0.25mm head is recommended for the eye area, the 0.5 mm is recommended for the face area and the 1.00mm is recommended for the body area.
In order to prevent infection, you need to sterilize the roller head for 20 minutes BEFORE and AFTER the micro needling procedure. Isopropyl alcohol is recommended.
HOW TO USE
Step 2 of 5
Wash your face with an antiseptic/antimicrobial cleanser to remove oils, dirt and impurities. This will prevent any impurity from entering into your skin when you roll your skin. Kleem Organics Vitamin C Cleanser is recommended.
HOW TO USE
Step 3 of 5
Using a gentle pressure, roll the device back and forth from 2 to 4 times in different directions (vertical, horizontal, diagonal) while pulling the skin slightly with one hand. This will ensure easy penetration of needles into your skin.
To ensure you don't irritate your skin and maximize coverage, roll back and forth with moderate pressure. Do not drag across your face with unnatural movement of the roller. This can lead to scratches. Do not roll forcibly as this can lead to prolonged inflammation, irritation and recovery time
When you finish rolling, wash your face with a gentle cleanser. This will improve absorption of your topical products.
HOW TO USE
Step 4 of 5
Derma Rolling boosts the absorption of topical products tremendously. You should nourish your skin with your favourite skin care products immediately after treatment. This will improve your results. Kleem Organics Vitamin C Serum, Hyaluronic Acid, Acne Serum, Dark Spot Treatment and Peptides Eye Cream are recommended based on your specific skin concerns.
Never apply topical products that contain irritating or toxic ingredients immediately after a treatment. If your skin is not over sensitive to Retinol, Kleem Organics Retinol is also recommended.
HOW TO USE
Step 5 of 5
Do not wear makeup, sunscreen or tanning lotion immediately after treatment. These 3 products are not for deep skin treatment. They can enter into your skin through the micro-punctures/micro-channels and cause an infection. Wait approximately 24 hours for your micro-channels to close up before applying makeup, sunscreen or tanning lotion.
Extra tip: You will notice a slight reddening of your treatment area. This is 100% normal. This reaction indicates that your skin is trying to regrowth new collagen. The redness will fade away after 1 to 3 days depending on the insistence of your treatment. If you go outside during this period, apply sunscreen (sunscreen is crucial regardless of derma rolling).
Repeat this process 1 to 3 times per week depending on your specific skin concerns.
FAQs
FAQ – Frequently Asked Questions
Yes, absolutely. Derma rollers allow a deeper penetration of your topical skin care products and therefore the application of a good Vitamin C Serum after the treatment can have super beneficial effects in terms of brightening, anti-aging and overall clarity of the skin.
You need to thoroughly wash off makeup, dirt, and debris from your face and eyes with a gentle facial cleanser. Then using the eyelash applicator brush, apply a thin layer to your upper and lower eyelash line. Imagine you are applying eyeliner onto the lash line with a wand brush. Using the eyebrow applicator brush on the other end, apply a thin layer to each eyebrow. Imagine you are applying eyebrow makeup with a brow brush. Make sure your eyelash line and your eyebrows are dry when applying the product.
This depends on your specific needs, however we suggest to use the derma roller once or twice per week.
If you are not over sensitive to Retinol, you can apply a Retinol based serum/moisturizer after the treatment. However, make sure to opt for a product that has a moderate amount of Retinol in its formulation.
You can sterilize your derma roller with Alcohol or Hydrogen Peroxide.
The collagen-inducing effects of the derma roller treatment can help with the reduction of neck wrinkles and therefore improve skin texture and skin laxity of the neck. Be sure to combine the treatment with the application of a proper neck skin care treatment. We suggest to opt for products containing Hyaluronic Acid, Peptides, Retinol (if you are not over sensitive to the ingredient) and Vitamin E.
Yes, for stretch marks we suggest to use the 1mm needle length head.
No, if you correctly treat your skin with a derma roller it only causes a light, mild discomfort, not pain.
Our 0.25mm derma roller is designed to be used on the eye area (do not however use on eyelids). This treatment can help improve the appearance of dark circles, eye bags and fine lines by boosting your collagen production through the creation of tiny micro-injuries in the skin that will also allow the better absorption of all your skin care products.
In these specific cases, a derma roller treatment works in two ways: in fact, in addition to encouraging your scalp to produce more collagen and thus supporting the growth stage inside the hair follicle, it also improves the blood circulation. You may consider applying ingredients that can further help this process, for instance aloe vera gel, olive and coconut oil.
This depends on what skin care issue you are looking to address. More generally speaking, we recommend the application of products that contain for example ingredients as Vitamin C and Hyaluronic Acid which can improve the overall smoothness, tone and hydration of the skin.
The length of each head is 0.25mm, 0.50mm and 1mm.
Derma rolling may help if you have spider veins, however every person has different idiopathic reactions to skin treatments, it is therefore best to consult your dermatologist for different options available for spider veins. The outcome of the treatment will depend on your skin's sensitivity.
Yes, derma rolling helps with hyperpigmentation and darks spots as it lightens them by breaking up melanin clusters and regenerate the skin through the collagen stimulation.
When using a derma roller the pressure applied on the skin needs to be moderate. Depending on your skin sensitivity and on the pressure applied, redness is a natural side effect after the treatment but bleeding is not very common.
The needles are made from titanium.
No, the device does not come with replacement heads.
Absolutely not, the derma roller is for single use only.
Yes, the skin needs to be properly and thoroughly cleansed before starting the treatment.
Unless the product arrives damaged or defective, we generally encourage people to apply the product consistently twice a day for a period of 30 days before notifying us about their unsatisfaction. In any case, we are always available for offering our suggestions and support. You can always reach out to us at: customersupport@kleemorganics.com
tag @kleemorganics_skincare in your images for a chance to be featured
In the Press
Aside from tens of thousands of satisfied customers and aestheticians from around the globe,
Kleem Organics® has also garnered attention from leading Health and Beauty magazines such as
Allure Magazine, Cosmopolitan, ELLE, Wellness Magazine, and Forbes.
Choosing a selection results in a full page refresh.