"This is the best eyelash curler I've ever had. Easy to use, does not pinch and pull lashes. It enhances eyelash length and gives a beautiful natural look." – Kelly Customer
EYELASH CURLER - To Visibly Curl Eyelashes
Designed for ultimate precision to deliver the best curl to your eyelashes in a fast and super easy way. Its shape and design allow precise control, safety and ability to create a long-lasting curl for a natural yet glamours look.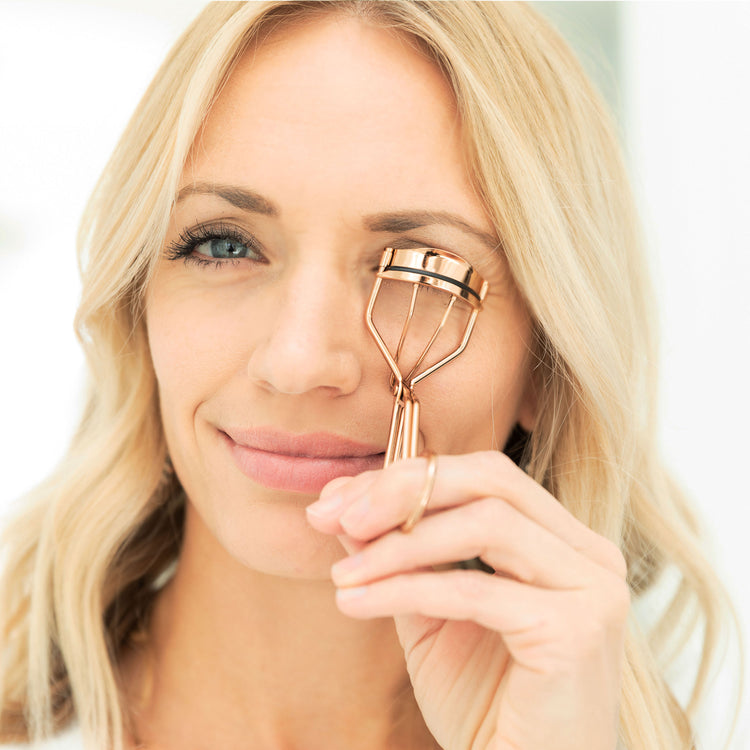 Complete the regimen
Discover product recommendations by our certified skincare experts
If you are looking to improve one or more aspects of the following list: time-consuming make-up brush cleaning, weak and scanty eyebrows and dehydrated, uneven and irritated skin, we can now help you target each concern with the exact combinations of beauty care products.
For fast and thorough cleaning of your make-up brushes, longer eyelashes, fuller eyebrows and for a more radiant complexion, we recommend combining our Make-Up Brush Cleanser with our Eyelash Growth Serum to strengthen your eyelashes and eyebrows and our Face Masks to guarantee your face area with products that assure a flawless complexion.
GET A MAKE-UP ARTIST LOOK EVERY DAY DIRECTLY FROM YOUR OWN HOME!
Surgical grade stainless steel – our eyelash curler is certified for the highest quality; stainless steel frame is perfectly engineered for both at home and professional use
Broad curve curls lashes from inner to outer corner
Edge-free design prevents pinching
Flexible silicone rubber pad is gentle and safe to use on lashes
Resistant
Travel-friendly
Testimonials
How to use
FAQs
Testimonials
TESTIMONIALS
Amy
Customer

Katherine
Customer

Francesca
Customer

Eleanor
Customer

Courtney
Customer
Stop thinking about it and JUST DO IT!!
Absolutely terrific. This eyelash curler works great. A good friend of mine recommended this to me and given the petite price, I decided to give it a try. Easy and gentle to us and my lashes stay curled all day long.
- Amy
Love it!
Eyelashes like Bambi! I have been purchasing this for many years now and love it. I combine it with mascara to have a more dramatic and intense look or on its own.
- Katherine
Brushes get as clean as the day you bought them!!
Best eyelash curler. I never used eyelash curlers and I have to admit I was sceptical. I then decided to give this one a try and boy, I'm definitely not going back. Best one ever.
- Francesca
Best makeup brush cleaner!
Just Fab. Works great and is easy peasy to use. Great quality, small price.
- Eleanor
This is a must-have!
You have got to get this!!! I have used this for years and years and will never be able to live without it. It's gentle but incredibly performing. It works wonders on my very straight lashes!
- Courtney
Ingredients
HOW TO USE:
Step 1 of 3
Open the curler and position it at the base of your lashes. Gently squeeze down on lashes.
HOW TO USE:
Step 2 of 3
For the fullest lashes, move the curler up, away from the base, and squeeze again in the middle of the lash. Then press one more time close to the tip of the lashes.
HOW TO USE:
Step 3 of 3
Use a dry cloth to wipe the eyelash curler and silicone pads clean between uses to ensure hygiene and more durability.
FAQs
Frequently Asked Questions
tag @kleemorganics_skincare in your images for a chance to be featured
In the Press
Aside from tens of thousands of satisfied customers and aestheticians from around the globe,
Kleem Organics® has also garnered attention from leading Health and Beauty magazines such as
Allure Magazine, Cosmopolitan, ELLE, Wellness Magazine, and Forbes.
}
Choosing a selection results in a full page refresh.