"Makes your skin radiate youthfulness and freshness" – Yuri Customer
VITAMIN C SERUM - For Rich Nutrition and Deep Repair
1fl oz/30 mL
Infuse the skin with a fast-penetrating, lightweight, repairing serum for a glowing and youthful skin. Thanks to the Stay-C
®
50 technology, this serum rapidly minimizes the signs of aging like wrinkles and age spots.
This antioxidant-rich refreshing elixir, with no harsh chemicals, combats the appearance of dull, oily, discolored skin to yield a noticeable radiant, healthy look and more youthful-looking skin. Ideal for all skin types.
Buy 2, get 15% off
Buy 3 or more and get 20% off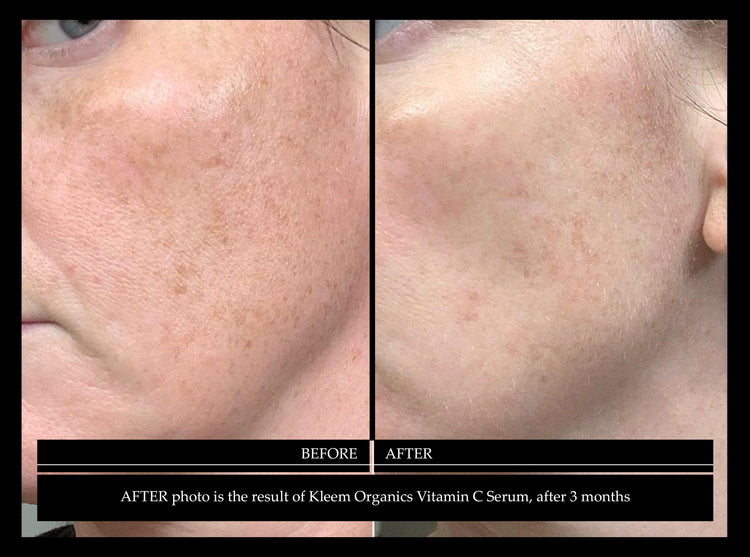 Complete the regimen
THE BEST SOLUTION DESIGNED SPECIFICALLY FOR YOU
If your primary skin concern is one or more on this list: skin discoloration, loss of firmness and elasticity, lack of hydration, uneven skin tone and more generally signs of aging, we can now help you target them with the exact combinations of skincare products.
For smoother, healthier and brighter skin, we recommend to start with our Vitamin C Cleanser, for a boost of antioxidants, and pair our Vitamin C Serum with our Retinol Moisturizer to maximize results. Add the Derma Roller to maximize their effectiveness and to stimulate collagen production.
GET 10% OFF WHEN YOU PURCHASE THE FULL REGIMEN!
What's Included
Full Ingredients List
Ingredients
BOOST YOUR SKIN BOUNCE!
Kleem Organics Vitamin C Serum is formulated to fight the look of dullness, uneven skin tone and hyperpigmentation at the source, while diminishing the signs of premature aging. Skin looks firmer and plumper, as youthful skin bounce is restored and the skin barrier is repaired.
Kleem Organics Vitamin C Serum uses the sophisticated Stay-C® 50, which is the most stable form of Vitamin C available. In fact, Vitamin C is highly effective in its pure form, but it can degrade with exposure to oxygen, water and high pH and this is why it is essential to have a form that is more stable and to store it in an airless packaging.
This serum is also enriched with a blend of botanical ingredients such as Hyaluronic Acid and Aloe Vera that are well-known for their significant hydrating properties and anti-aging benefits, including visual improvement in loss of firmness, the appearance of lines and wrinkles, age spots and dullness.
GET YOUR GLOW ON!
Coping with city life, pollution, stress and general environmental hazards causes the skin to be dull and to lose its natural glow. For those of you who want to get that gorgeous healthful look back, you have found your guardian angel in a bottle. Prep your skin with this highly concentrated Vitamin C serum and be ready to notice an instant shot of skin magic.
Repair hero: Helps to protect skin from pollution and other environmental aggressors
Youth Booster: Helps to reduce fine lines, wrinkles, age spots and uneven skin tone
Baby-Soft Enhancer: significantly improves skin smoothness and overall texture
Nourishment Powerhouse: it promotes healthier and more naturally glowing skin
Whether you looking for a brighter complexion, a more even skin tone, protecting your skin from stress and free radicals or reducing the appearance of fine lines, wrinkles or age spots, this highly concentrated Vitamin C Serum will address your concerns and deliver the results your skin deserves.
The Key Natural & Organic Ingredients.
Vitamin C:
Stimulates collagen production and increases cellular turnover for renewed radiance.
Arginine:
An amino acid which strengthens the skin' natural barrier and has antioxidant properties.
Hyaluronic Acid:
Boosts hydration and replenishes cell moisture for plumper and smoother skin.
Aloe Vera:
Reduces inflammation and redness and balances the sebum production.
Jojoba Oil:
Moisturizes the skin, fades dark spots and boosts the overall skin's glow
Vitamin E:
Combats the effects of free radical reducing UV damage to skin
FULL INGREDIENTS LIST
INGREDIENTS:
 Deionized Aqua , Organic Aloe Barbadensis Leaf , Sodium Ascorbyl Phosphate (Vitamin C) , Cassia Angustifolia Seed Polysaccharide (Botanical Hyaluronic Acid), Hamamelis Virginiana (Witch Hazel), d-Alpha Tocopheryl Acetate (Vitamin E), Ferulic Acid, Carbomer, (2s)-2-Amino-5-guanidinopentanoic Acid, Orange Fragrance, Kosher Vegetable Glycerin, Organic Simmondsia Chinensis (Jojoba Oil), Organic Centella Asiatica (Gotu Kola), Wildcrafted Equisetum Arvense (Horsetail), Wildcrafted Taraxacum Officinale (Dandelion), Wildcrafted Geranium Maculatum (Wild Geranium), Phenoxyethanol, Ethyl Hexyl Glycerin
COMMITTED TO POSITIVE CHANGE:
We always formulate without 1,300+ banned Ingredients, including:
Parabens, Mineral Oil, Sulfate-based Detergents, Synthetic Fragrance, Petroleum-based Ingredients, Phthalates, Formaldehyde and GMO Ingredients.
Good for your Skin – Good for our Planet
On September 17th, 2019, we adhered to the Donations program as part of Kleem Organics' commitment to achieve net-zero carbon emissions globally by 2040, ten years in advance of the Paris Agreement.
We donate inventory to selected charitable organizations which include: Age UK, Barnardo's, British Heart Foundation, Cancer Research, Newlife, Salvation Army, Scope, Sue Ryder, TRAID and others. With more than 15,000 products donated to date, our commitment to a flourishing planet has only just begun.
NEVER HAVE A DULL MOMENT AGAIN!
We formulated our Vitamin C Serum to protect the skin from environmental stress and to enhance its natural appearance. The blend of powerful antioxidants and anti-aging properties has been carefully selected to guarantee your skin with new radiance while repairing its barrier.
Kleem Organics Vitamin C Serum
Accelerates the production of collagen and elastin
Helps prevent the premature aging of the skin
Protects the skin from free radicals
Inhibits skin's melanin production, the cause of skin discoloration
Boosts the skin natural glow
Supports skin barrier and helps keeping it firm and plump
Testimonials
How to Apply
FAQs
Testimonials
TESTIMONIALS
Linda


Yuri


Samerah


Vivian


Ann

1
Liquid Gold
I'm sold, I'm a new convert, but boy I am converted! I was already using Kleem moisturizer, but when I added this, it became a whole new world. The difference in my skin is amazing and I'm 63 and a smoker so my skin was showing abuse. Not anymore. The serum has improved everything, wrinkles, sagging, dk circles, it's woken my face up. I can't think of anything I've used in my life that had made such a drastic difference!
- Linda
2
Makes your skin radiate youthfulness and freshness
It is not easy to find a simple and effective product for male skin but this Kleem's Vitamin C Serum is the best I ever had. I use it every day before going to work and under my regular moisturizer (I like Kleem's anti-aging cream). My 79-old mother and my sister love it too. A winner all around!
- Yuri
3
EVERYONE MUST TRY IT
What an amazing serum. I have dry, sensitive skin and after having used for more than a month I can definitely see the results. My skin seems brighter, more hydrated and I have seen a great reduction in my pores. I have been complemented by many on my skin after using this serum. Very satisfied with this product and would recommend to everyone.
- Samerah
4
I love this serum so much!!
After one week I could see a difference. Now in week 3 and I am over the moon. After radiotherapy to my head and neck (add age in as well lol) I thought I would be wrinkled for life. This really has given me back my confidence. I am now into my second month on the serum and retinol cream. I cannot believe the change in my skin tone and wrinkles. It out ranks all the other products I have tried by miles in performance and price.
- Vivian
5
Very Special
I have very fair, sensitive skin. This is clear, not creamy. It goes on smoothly and distributes evenly. It has no sensation on my skin other than soothing coolness: no prickliness, no burning, nothing irritating. It has a beautiful light, natural scent that is perceptible for a short while, then fades as the serum is absorbed. I'm so pleased I'm placing it on auto ship.
- Ann
Ingredients
How To Apply
Step 1 of 5
Cleanse your face, neck and décolleté with a 5.5 pH level cleanser that restores the skin's barrier and helps keeping your skin hydrated and nourished. (Kleem Organics' Turmeric and Vitamin C Facial Cleanser is recommended.)
Use lukewarm water in order to melt away pollutants, dirt, sebum and fragrance. The temperature of water is important as cold water can tighten your pores and this can trap bacteria and debris and won't clear out your skin as easily as using warm water. As a consequence, unclean skin will not absorb effectively all your skin care products. On the other hand, hot water causes capillaries to burst, resulting in redness and inflammation.
How To Apply
Step 2 of 5
Apply your toner as it helps to remove any residue of make-up left after cleansing, it also protects your skin, removes chlorine and minerals present in tap water and it increases absorption of your next skin care products.
How To Apply
Step 3 of 5
Dispense one/two drops of our Vitamin C Serum onto your fingertips and rub them lightly together. Gently tap the surface of your cheeks, forehead, chin and neck with your fingers for 30 seconds. Do not stretch, pull or rub the skin. The tapping action encourages the serum to sink fully into the deeper layers of the skin for utmost efficacy.
How To Apply
Step 4 of 5
Let the Vitamin C Serum absorb completely into the skin for a couple of minutes. If you feel any tingling sensations – don't worry. Tingling is a sign that the bio-active ingredients in our serum are getting to the dermis – where they need to be if they are going to work.
For best results, apply the Vitamin C Serum twice a day, in the morning and evening. If it's your first time using a Vitamin C based product, start with a once a day or every other day application until your skin has adjusted to the new ingredients before switching to the twice a day application.
How To Apply
Step 5 of 5
You can now apply your eye cream, moisturizer and facial oils. Kleem Organics Peptides Eye Cream and Retinol Moisturizer are recommended.
Face oils give additional emollients that dry or dehydrated skin may need.
FAQs
Frequently Asked Questions
Yes, the Vitamin C Serum is cruelty free at every stage of production.
Yes, the Vitamin C Serum is vegan-friendly.
The product contains 25% of Vitamin C.
Yes, the concentration of active ingredients, especially Vitamin C in combination with Ferulic Acid which potentiates the effects of Vitamin C, allow the cells to turn over faster and to produce more collagen therefore contributing to clearer and more even skin.
For best results, we suggest to apply the product twice a day in the morning and in the evening before your moisturizer/spf. If you have never used a Vitamin C based serum before, start with a 4/5 times per week application to allow your skin to adjust to the new ingredients.
Sunscreen is fundamental always, regardless of the skin care product you are using, so, yes, absolutely, you need to wear sunscreen after the application. Vitamin C fights against the effect of both UVB which mostly effects the external layers of the ski and UV, which are the most dangerous as they can penetrate deep into the skin cell, altering and destroying collagen, elastin and other skin cellular structures. As UVA can penetrate 30 – 40 times deeper than UVB it is responsible for causing skin aging, hyper pigmentation. On the contrary, UVB is mostly related to sun burn, production of free radicals and skin cancer. The use of a properly-applied sun cream can only stop around 55% of free radicals produced by UV rays. The 45% of free radicals left, responsible for photo-aging can be blocked by the application of the powerful antioxidant vitamin C. Vitamin C doesn't create a protective shield against the UV rays, since it doesn't absorb them, instead it neutralizes the dangerous free radicals. This highly beneficial and desirable effect cannot be provided by any solar cream. That's why it's so important to use both solar cream and vitamin C serum for best protection.
If this is your first time using active ingredients as Vitamin C in high concentration, you may experience slight dryness and/or slight tingling sensation at the beginning of use. Allow your skin to adjust to them by applying the product only 4/5 times per week before passing to the once-a-day/twice-a-day application.
No, this product is parabens and silicones free.
The Vitamin C Serum has a very delicate citrusy scent deriving from the plant-based ingredients.
The product has a 12 months shelf life from opening.
With regard to rosacea, absolutely. Vitamin C, Vitamin E and Ferulic Acid are rockstar ingredients when it comes to improving this concern.
No, all our products are genderless.
Yes, the bottle can be re-used and recycled too.
We have two sizes of Vitamin C Serum. The smaller one contains 1oz/30ml of product; the larger size contains 1.7oz/50ml of product.
This very much depends on the improvements you are looking to obtain; for instance, smoother and brighter skin can be achieved after a few days of application, reduction of sun spots and wrinkles take at least a couple of months, improvements in the clarity and overall health of your skin can take from two to six weeks. For more specific answers based on your skin goal, please email us at: customersupport@kleemorganics.com
Yes, usually serums need to be followed by a moisturizer to guarantee your skin with the right amount of hydration it needs. The Vitamin C Serum has a lightweight consistency and delivers actives into the skin. To achieve best results and to keep your skin properly hydrated we do advise to always apply a moisturizer to both "lock-in" the treatment and to create a physical barrier that retains hydration and prevents skin from drying out. Our most felt advise in terms of skin care is: follow what your skin tells you.
Yes, the blend of active ingredients contained in the Vitamin C Serum can work well in conjunction with Retinol, which is an anti-aging powerhouse. Research has shown that a combination of vitamins in cosmetics will provide optimal results—including vitamins A (that is retinol), C, and E. Pairing Retinol and Vitamin C creates a better environment for Retinol by stabilizing it, extending its effectiveness.
Yes, the formulation has been studied to be suitable for sensitive skin too. You may want to do a patch test before and keep in mind that if you have never used a Vitamin C based skin care product before, it is best to start with a 4/5 times per week application until your skin has adapted to the ingredient.
The Vitamin C Serum should be stored in a cool environment (during summer we do suggest to keep the product in the fridge away from high temperatures).
Unless the product arrives damaged or defective, we generally encourage people to apply the product consistently twice a day for a period of 30 days before notifying us about their unsatisfaction. In any case, we are always available for offering our suggestions and support. You can always reach out to us at: customersupport@kleemorganics.com
tag @kleemorganics_skincare in your images for a chance to be featured
In the Press
Aside from tens of thousands of satisfied customers and aestheticians from around the globe,
Kleem Organics® has also garnered attention from leading Health and Beauty magazines such as
Allure Magazine, Cosmopolitan, ELLE, Wellness Magazine, and Forbes.
Choosing a selection results in a full page refresh.